Many people do not realize that birding has a long history in Castlemaine. Neither did I until I began researching the area, spurred on by the enigmatic 'Leach Bird Fountain'. This still exists in Kalimna – see the book for directions and a picture of how it looks today in the Kalimna Walk section.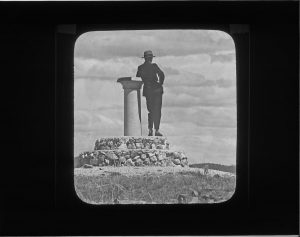 Hugh Leach standing at the top of Kalimna – late 1920's. The cairn is still there.
The well-dressed naturalist of the 1920's – blue serge suit, spats, stout boots, homburg hat – are you properly dressed for the field?
My research initially took a while to get going given the paucity of information. Who was Leach? What did he do? Why was he remembered so? It took a long time and lots of dead ends with some confusions thrown in. There is a well known early bird book written by J.A. Leach, who was more or less a contemporary of Hugh Leach, but no relation.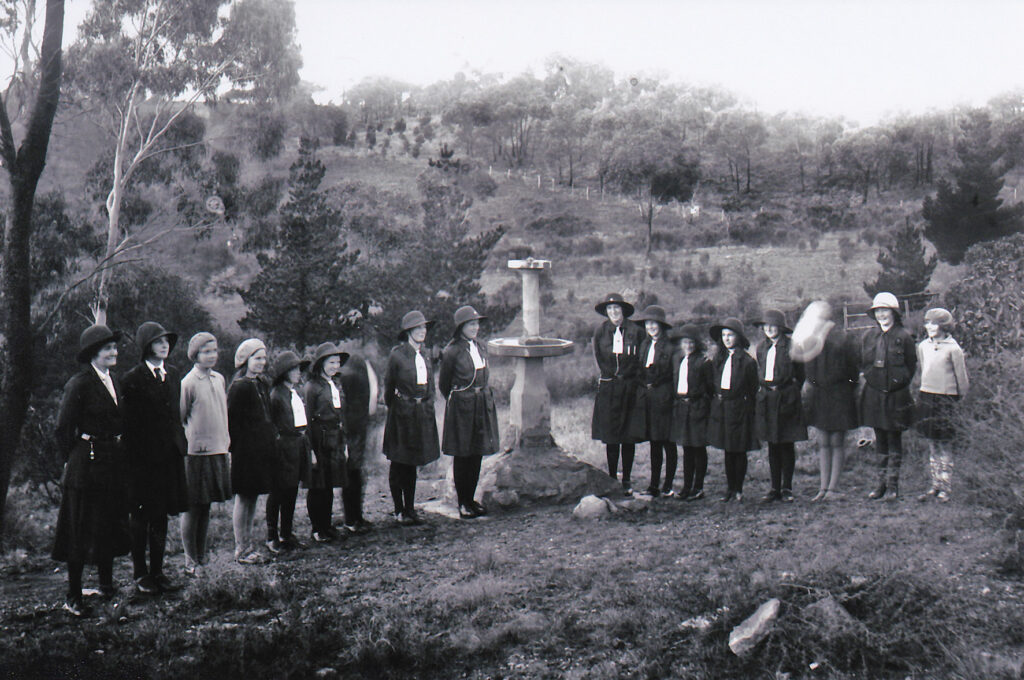 The Leach Fountain in 1929
The tale of how I tracked down the man is worth telling in summary. It all started when Max Schlacter started asking around and put a short note on the Castlemaine Field Naturalists web site. This elicited a response from a woman in the Grampians who informed us that she was a relative of Hugh. And did we know that Hugh was a keen photographer? Not only that – she had one of his original glass lantern slides – showing of all things a Swift – extremely hard to see let alone photograph. More tantilizingly, in the 1990's she had seen a whole milk crate full of glass plate negatives and lantern slides.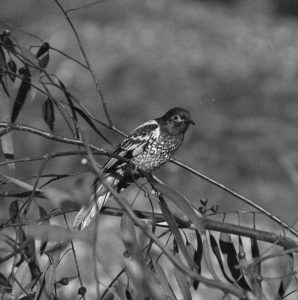 Regent Honeyeater – photographed in the 1920's.
No longer to be found here…..
The hunt was on! Suffice to say that there were wrong phone numbers, people who had moved interstate and a hint that the glass plates were now in Queensland. Finally word must have filtered through the family because I received a phone call from Mike Leach – grandson of Hugh Leach. Not only did he have the milk crate, but he was coming to Castlemaine next week – did I want a look? What a question…..
Mike arrived at our place with the box – what a treasure trove of history! Not only were there over 200 slides – mostly negatives, but also some postives which were the 'lantern slides' used in very old projectors. It soon became clear that Hugh was a larger-than-life evangelist about birds.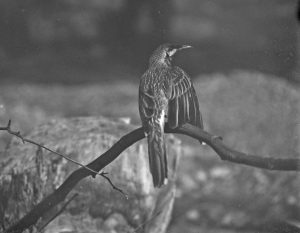 Red Wattlebird – good eating apparently……
Using Trove it became apparent that Hugh was a good singer, captain of the rifle club, won prizes for his roses, was involved in the early stages of the Gould League of Birds and so it went on….. he was Head teacher at St Arnaud North School and later Head Teacher at Barkers Creek School. He also gave public lectures about birds encouraging conservation, illustrated with the lantern slides we now have. Chris Timewell dredged up family records form electoral rolls, newspaper clippings and such like to track movements and flesh out the family tree.
My research into the school records at St Arnaud gave a glimpse of the man through the school council minutes minutes – in books exactly the same as the one below used for his writing. He was clearly persistent with his school council, encouraging them to provide better water tanks for the school and then the construction of a dam to allow garden improvements. But his powers of persuasion were further demonstrated when he convinced the school council to move his house, which was attached to the school, to a separate location. I guess he and his family did not like living attached to the school – or maybe his wife Mary wanted a bit of space – who knows? The council clearly obliged and the house was moved.
Along with the plates was a photo album, with a dedication from the Bird Club. More interesting were the first three chapters of a book that Hugh had started to write, called 'The Bird Lover'. Tantilizingly, the notebook was full, but had a 'to be continued'….. at the end. Alas we have never located any further chapters.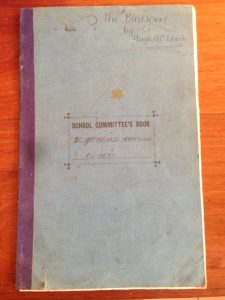 Draft of 'The Bird Lover' – written in a recycled School Committee Book – maybe he wrote it during boring committee meetings?
However, further research has revealed that these chapters, along with many photos from the plates, ended up as articles in 'The Emu' – still the leading Australian ornithological journal today. The articles are almost word-for-word with the notebook.
Not an approved method of bird photography today!
Just hold a young bird in your hand to get the parent……
Research continues with the assistance of Stewart Leach, great-grandson of Hugh, who has paid for the full restoration and scanning of the plates, some of which were a bit the worse for wear. Stewart is still trawling the widespread family looking for more pieces of the jigsaw. Hopefully there will be more to follow.
Hugh A.C. Leach publications
These have quite a few of his photos.
The Emu
The birds of Central Northern Victoria
H Leach – Emu , Vol. 28 No. 2 Pages 83 – 99, Published 1 December 1928
Robins
Hugh A.C. Leach – Emu , Vol. 29 No. 1 Pages 45 – 47, Published 1 September 1929
Notes on the White-Winged Chough.
Hugh A.C. Leach – Emu , Vol. 29 No. 2 Pages 130 – 132, Published 1 December 1929
Honeyeaters and Cuckoos
H.A.C. Leach – Emu , Vol. 28 No. 3 Pages 177 – 182, Published 1 March 1928
The School Paper
Tip, Tip, Top O' the Wattle
Hugh A. C. Leach – School Paper : Grades V and VI , October no. 265 1920; (p. 132-133)
The Birds of St. Arnaud
Hugh A. C. Leach – School Paper : Grades V and VI , October no. 265 1920; (p. 138-140)